I have heard various things before heading to Vang Vieng. Some say it is dead since government closed it down, some say there are still bars and the scenery is still nice. Stephen was there now too so I thought I would just stop by.
The drive from Luang Prabang was actually very nice. The curvy roads through the mountains set you in awe. (the gif is not that good)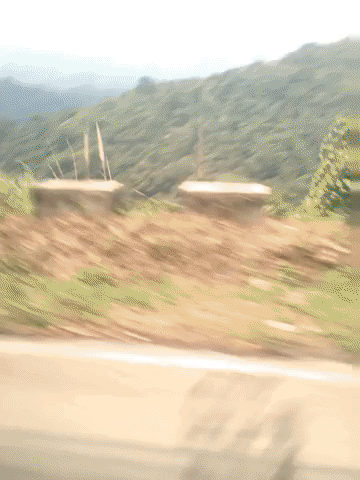 The nana backpack hostel is actually run by the brother of the owner of the one I stayed in Luang Prabang. They are not from Laos but Vietnamese. Apparently there are some Vietnamese businesses here and it is funny to see that Laos people can't run businesses on their own.
The day I arrived, I did not do much except reading a bit and enjoy a cold beer Lao. I met the one English guy from my dorm who is travelling since a few months and he lamented a bit about how it is everytime a new effort to get to know new people. You need to start to tell your story from scratch again. I am sitting here in my 5th month of travel and I can actually relate. But I wouldn't complain about it, this is just how it is. And hence, always being on the road is not my thing either since the good things in life like long lasting relationships take time and effort. And now a little effort in introducing yourself doesn't seem too far off.
The next day I took a half day tour kayaking in rivers. I met Matt from New York who used to work in a E-trading company and now has quited his job to live in Maui because the job was not what he wanted. He is now working on the island in a restaurant and giving some yoga lessons. The rest of his time, he enjoys his time with his dog and surfing on the beach. One thing I know is that I need stimulus to my mind to not get bored, and physical exercises are usually not my thing. Working in a restaurant is maybe nice to interact with people, but your brain will rott pretty quickly.
The Kayaking is actually a good choice since the traditional tubing, which is sitting in a tube floating down the river, stop at bars to get drunk, is very slow in the dry season. The water is very shallow and you often get stuck in the stones as well. Before 2007, there were yearly 30 people dying due to tubing. That was because the whole thing is opened until 10pm and when it gets dark, you can't see much. When someone is shitfaced, slipped through tube and drowned, you wouldn't have noticed. Also there were slides to jump into the water. People hit the rocks with their heads and die. After the government took action, there was only 3 bars and they need to close before sunset.
In the evening, I met Stephen again as well. And of course, when you meet other Swiss people, you meet them in larger numbers. Independently from each other, there were suddenly 5 Swiss People standing in the street … (5th one missing in the pic)
I also met this girl I saw in Inle Lake (Marloes friend, whose name I remembered when I met her). But if you think back, there was never a deep connection so we didn't even chat much.
That is actually about it in Vang Vieng. Il Postino is a really good Pizza place, actually run by an Italian. (Is this the first time I talk about restaurants?)
The view of another restaurant
Also, there are a lot of puppies.
And a huge load of Korean tourists. They even started drumming their own music in a blue lagoon.
Me, just came back from a burger in Santa Marta and finished this in 20 minutes.